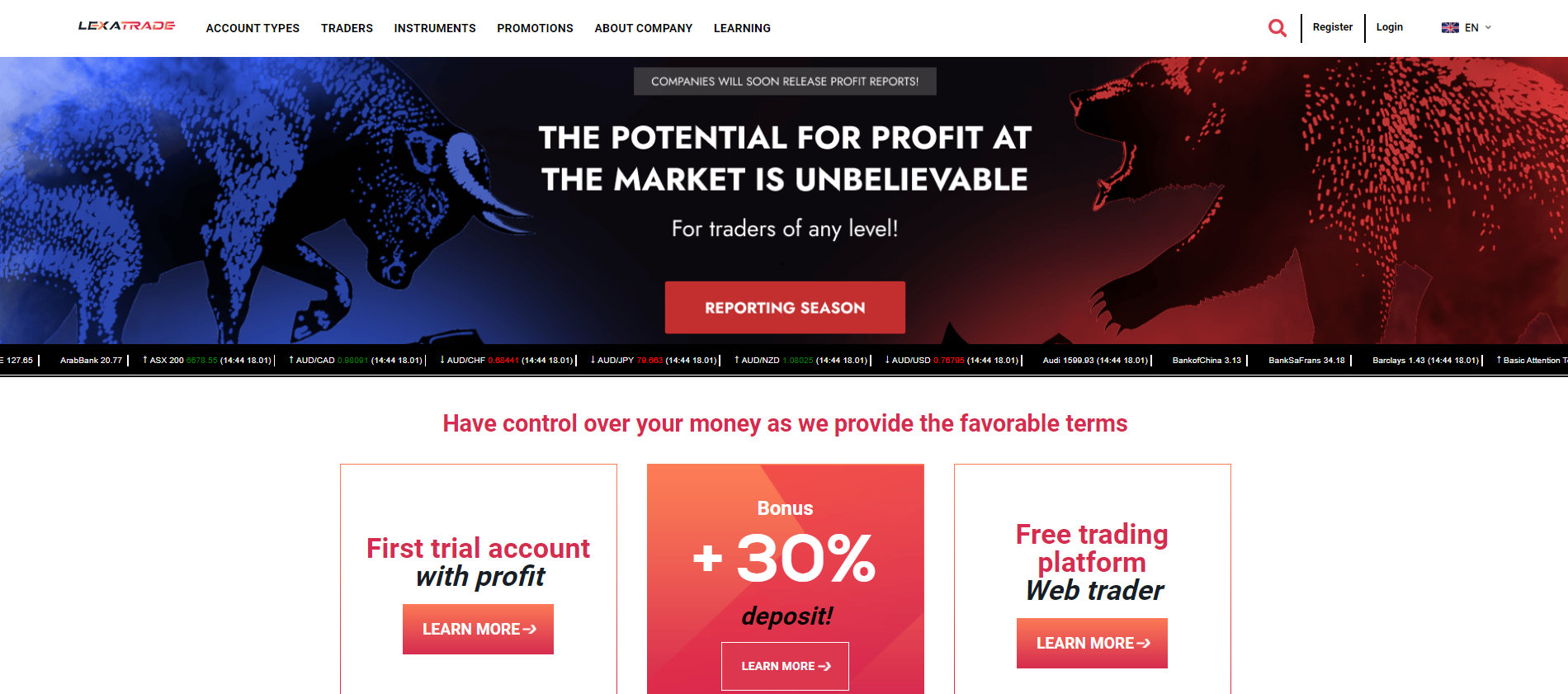 Lexatrade is an online brokerage site accessible to a number of jurisdictions worldwide with its service bannered by a wide range of financial instruments and two trading platforms in MT4 and xCritical.
In this LexaTrade review, we will cover its pros and cons, key features, and offered trading conditions to traders. Read on to know about this broker's services.
LexaTrade Pros and Cons
Delving deeper into the site's trading services, let us rundown Lexatrade's fair share of pros and cons. Below are the sets of advantages and disadvantages of trading with LexaTrade.
Pros
Traders, both novice and experienced, can trade with convenience and confidence using two different trading platforms: MT4 and xCritical.
Having the industry-popular platform, MT4 is a good choice for traders who want to trade under familiar trading interface and trading system. Equipped with features of a standard MetaTrader, LexaTrade's MT4 offering is a good choice for novice traders. On a different level, traders wanting to use a more advanced trading platform can opt for xCritical as it powered by cutting-edge trading solutions and advanced features.
Headquartered in Saint Vincent and the Grenadines, LexaTrade claims to be owned and operated by Swissone Group Ltd. Though some reviews claim that LexaTrade is an offshore brokerage firm operating under no apparent reputable regulatory supervision, its official site asserted the legality of its business operation and its compliance with the International Financial Market Relations Regulation Center (IFMRRC), a non-commercial organization established to regulate the quality of services offered and provided by brokers, dealing centers, etc. Under IFMRRC, LexaTrade clients are covered by a Compensation Fund benefit.
wide range of financial instruments and trading account options
LexaTrade covers stocks, shares, commodities, and currency pairs. At present, the broker provides traders access to more than 200 trading instruments.
extensive educational materials
LexaTrade offers market news, technical analysis tools, daily outlooks, and an array of educational resources on the broker's site and also through its platform, definitely a big boost for traders who want to make sound, research-backed trading decisions.
Cons
Among all asset classes, LexaTrade charges a rolling commission. This means that a trader who holds to a position overnight is charged with a commission for the use of the loan. The commission rate is 0.005% of the total transaction amount and is charged at 00:00 GMT through the user's trading account.
VISA/Mastercard, cryptocurrency, Skrill, Neteller, and Arangepay are the only means of payment accepted by LexaTrade. The minimum withdrawal amount is $50 and a 5% additional commission is charged to clients conducting less than 5 independent transactions.
false negative customer reviews
Unfortunately, LexaTrade often gets false reviews from pretentious clients. These reviews mostly say that the brokerage firm is a scam and practices fraudulent activities. These maligning claims are no longer new in the industry albeit the broker being targeted is put in a bad light and dents its reputation.
LexaTrade Key Features and Trading Conditions
Trading Platforms

LexaTrade provides a Web platform armed with a wide range of tools, risk-management features, and best trading solutions.
The Web platform displays 170 trading instruments, charts, and order management tools for effective monitoring of trading positions and technical adviser Autochartist.
Aside from the Web platform, LexaTrade also offers another powerful trading platform in xCritical. This is a mobile trading opportunity for traders on the go. The xCritical mobile app has an intuitive and simple interface that helps traders navigate the platform easily. Traders can also easily track the movement of market prices and get timely feeds of current forex forecasts through the functionality of the xCritical mobile app. Since the functions of the platform are separated, traders can also open and close transactions without delay and set Stop Loss and Take Profit quickly. The mobile app also provides users with the current account balance to easily check and replenish it when needed.
LexaTrade also offers the MT4 Terminal. This enables safe trading using modern technologies and does not require downloading and installing platform software. The MT4 Terminal is compatible with any desktop computer and operating system. It has listing charts for changing time ranges and combines many commercial operations. LexaTrade's MT4 Terminal is also a viable option for traders.
Account Types
In LexaTrade, a number of account types welcome traders of all backgrounds and skill levels. These accounts are the Start, Silver, Gold, Platinum, and VIP. Each type of account has its set of trading conditions and features that fit the various trading preferences of traders. The minimum trading deposit amount is $250. The broker also offers a Demo account for traders who want to test their trading strategies without financial risk.
Promotions
LexaTrade also offers a referral incentive, apart from hefty welcome incentives ranging from 30% to 120% of the initial deposit of the trader. The incentive is awarded to a trader who refers the broker to a friend who successfully signs up for an account. The referring trader will be awarded up to 50% of the total value of the initial deposit of the referred customer.
Customer Support
As an alternative means of contact, LexaTrade's live chat through its trading site is complemented by other social media channels, including Skype and email. The customer support is available 24/5.
Conclusion
LexaTrade has a strong platform and trading instrument offerings. However, having higher spreads and commissions are some of the concerns for traders who are weighing their options with other brokers.