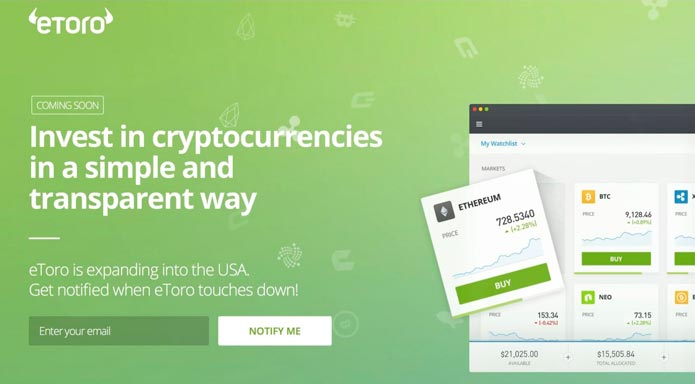 eToro is one of the most popular and most trusted online financial services providers in years. It has a wide, global client base, with successful traders testifying to the broker's quality services. In this review, the key features and services, trading conditions, products and markets, and the advantages and disadvantages of trading with eToro will be assessed.
eToro was founded in 2007 and headquartered in Israel. It has garnered 13 million traders across 140 countries globally, including the United States. It built its name by promoting its social investing platform, which is an innovative tool that allows traders, more so for novices, to replicate the trades of their more successful peers.
eToro specializes in currency and cryptocurrency trading, and it offers a sophisticated social or copy trading platform that is attractive to a wide range of traders. eToro runs multiple brokerage firms offering multi-asset services for most countries, except for the United States, where clients are only allowed to trade a limited group of assets, particularly cryptocurrencies, by regulation.
This broker is registered in Cyprus and regulated by the Financial Conduct Authority United Kingdom. This gives eToro the rights to offer its brokerage services across all European countries with its cross-border license. This may be a comforting fact for U.S.-based clients, since eToro is not yet licensed by the U.S. Securities and Exchange Commission. However, it is registered in several U.S. states.
eToro Key Features and Services
eToro is known for its quality services that benefit investors worldwide. It is the world's leading brokerage firm to provide social trading services, giving access to different financial assets in over 140 countries.
Social/Copy Trading Platform
eToro's CopyTrader is an intuitive social platform that lets traders trade automatically by replicating the exact trades of other traders. It is easy to do, and lets even novice traders without sophisticated experience in trading gain profits. Copy traders need only to choose a successful investor to follow and in a click of a button, can mirror their exact positions automatically. eToro also provides a stop loss option so beginning traders can limit possible losses.
In order to perform copy trading, the minimum amount you should pay is $200 and can go as high as $500,000. Users can replicate up to 100 traders all at once. Another beneficial feature about this platform is that you can still view other traders' portfolios while you are replicating trades at the same time. The successful traders' profiles let you to view their stats and risk scores, allowing you to assess their trading styles' compatibility with your preference.
Cryptocurrency Trading
This part of the review is particularly useful to aspiring eToro clients from the United States. As of now, eToro offers 15 cryptocurrencies specifically picked for their wide tradability and demand. These cryptocurrencies are the following: Bitcoin, Bitcoin Cash, Ethereum, Ethereum Classic, Dash, XRP, Litecoin, and more.
For U.S.-based clients of eToro, cryptocurrency trading is available in 41 states. For the rest of the other states, eToro is yet to earn a license to provide actual cryptocurrency trading. For the meantime, clients can opt for virtual trading, which will enhance their skills and knowledge of the markets with less risks.
Cryptocurrency E-Wallet
eToro offers a free electronic wallet for storing cryptocurrencies, which is known as the eToro wallet. It charges a decent cost of 5% when converting cryptocurrencies into fiat currencies, like the U.S. dollar, and works vice versa. Some investors may find this number a bit costly, but the security measures provided by the eToro wallet are justified by this cost. The minimum conversion is worth $125 and can go as high as $10,000 maximum. The eToro cryptocurrency wallet is available in both Android and iOS.
eToro Trading Conditions and Fees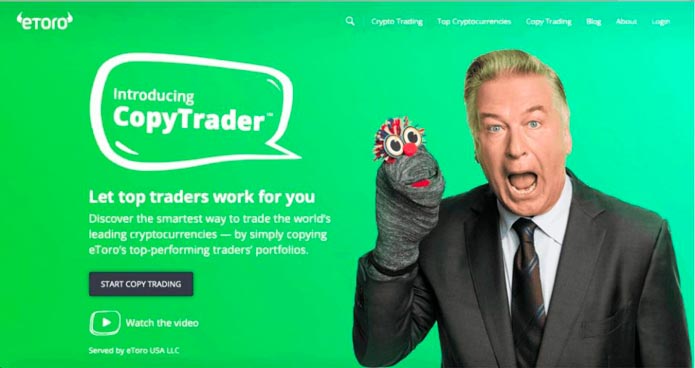 One of the rather popular opinions about eToro is that, while it provides a good range of quality services, the trading conditions, fees, and commissions are expensive.
eToro earns in the difference of the spreads of executed positions, therefore eToro charges its fees through the spreads that may suddenly rise or fall with volatile market conditions. In the beginning of 2020, eToro charged fees on spreads that ranged from 0.75% to 5%. Most spreads from cryptocurrency trading go from 1.9% to 2.9%. Still, these charges are considerably cheaper than other brokerage firms whose markups go as high as 1.25%.
U.S. clients of eToro can start cryptocurrency trading with as low as $50. Moreover, opening an account is free and already gives the trader access to professional tools and skill-sharing in the traders' community. eToro does not charge management charges for any position at all, not even in social trading platforms. There is also a 0% commission on stocks, allowing traders to earn profits fully. Other than that, eToro also does not charge rollover fees, ticket fees, and additional broker fees.
eToro Pros and Cons
To conclude the review, weighing the pros and cons of eToro, or the advantages and disadvantages of its trading features, are only necessary. This summary of all its features, and especially in comparison to other brokers' offerings, will aid each and every trader in determining whether eToro is the perfect choice for them.
The pros of trading with eToro could be boiled down to a few factors. This includes the broker's scope and quality of offerings. eToro provides access to 15 popularly-traded cryptocurrencies, and is working on expanding its scope in the near future. It requires a low minimum funding to open an account and it is fairly easy to begin investing through its leading copy trading platform. The latter also expands the novice trader's reach, allowing him to match the trades and profitability of more successful investors.
On the cons' side, eToro's cryptocurrency trading services are only available in 41 U.S. states. The state of New York is one of the few states where eToro is not yet licensed to provide cryptocurrency trading. Furthermore, U.S.-based clients are only limited to cryptocurrency trading, while the rest of the world with eToro's presence have access to equity and foreign exchange trading. If you are not from the United States, you can fully enjoy the services provided by eToro across all markets it supports.